What is The International Training Course (ITC) on Disaster Risk Management of Cultural Heritage ?
The International Training Course on Disaster Risk Management of Cultural Heritage is a follow-up of the recommendations adopted at the Special Thematic Session on Risk Management for Cultural Heritage held at UN-WCDR (World Conference on Disaster Reduction) in January 2005 in Kobe, Hyogo, Japan. One of these recommendations advocated the need for the academic community to develop scientific research, education and training programs incorporating cultural heritage in both its tangible and intangible manifestations, into disaster risk management. The importance of strengthening knowledge, innovation and education to build a culture of disaster prevention at WH properties was reiterated also by the World Heritage Committee at its 30th session (Vilnius, Lithuania, July 2006).
Objectives and Methodology of the Training Course
The main objective of the course is to provide theoretical and practical knowledge on various aspects of disaster risk management of cultural heritage. In particular, the course provides interdisciplinary training to:
Undertake an integrated risk assessment of tangible and intangible, immovable and movable cultural heritage by analyzing their vulnerability to natural and human induced hazards that can cause disasters;
Build integrated system for disaster risk management of cultural heritage, incorporating various measures aimed at reducing risks, responding to disasters and recovering from them.
Formulate disaster risk management plans for cultural heritage that correspond to the local/ urban, national and regional plans and policies for disaster risk management and development as well as humanitarian response and recovery mechanisms;
To learn practical tools, methodologies and skills for disaster risk management of cultural heritage such as cost benefit analysis, value assessment, budgeting and communication methods with various stakeholders ranging from the decision makers to local communities; and
Strengthen the international scientific support network in order to build the institutional capacity needed to formulate comprehensive disaster risk management plans that are based on the characteristics of cultural heritage and nature of hazards in the national and regional context
The course comprises lectures, site visits, workshops, discussions, team projects and individual/group presentations. Participants are expected to actively participate throughout the course. The course aims at promoting the development of collaborations and network building among scholars and professionals in cultural heritage protection. This course is provided scientific support by UNESCO and the International Centre for the Study of the Preservation and Restoration of Cultural Property (ICCROM).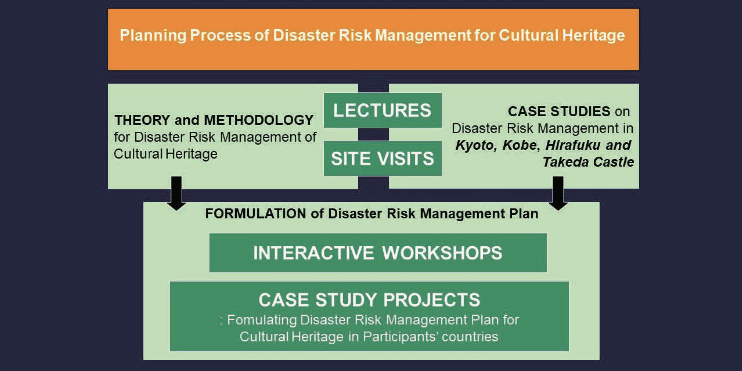 Based on the knowledge obtained from lectures, site visits, and exercises through interactive workshops, the training course also sets the goal of raising planning skills in disaster risk management of cultural heritage, by having each participant formulate outline of a DRM plan of a case study site or museum from the participant's home country in line with the country's respective social, economic and institutional context. In order to do so, the Institute asked the selected participants to collect relevant data/information related to the cultural heritage, hazard characteristics and local context before coming to Japan.